Laying the groundwork for
success

.

Getting started with 411Fit is a piece of cake (no pun intended!). Follow our three step registration process and in a matter of minutes you can be on your way to a healthier you. Tell us a little about yourself and select your overall objective and 411Fit will set you up with recommendations for all your daily nutrition, exercise and long term goals. Based on best practices and the latest research in the areas of health and wellness, 411Fit will provide you with the personal guidelines you need to be successful.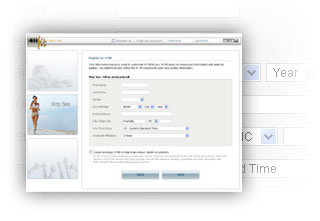 As easy as 1-2-3.
Three simple steps. Who knew that you could get so much out of so little? Using some basic demographic information - your age, height, weight and gender - along with your overall objective, 411Fit will calculate your Resting and Daily Metabolic Rates, select the most appropriate metrics for you and set your goals for nutrition, exercise, net calorie intake and any of the metrics you are tracking.
Personalized & customized for you... by you.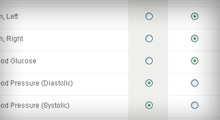 Metrics
411Fit provides an extensive list of standard metrics that you can choose from but if you can't find the metric you want to track - don't worry - we allow you to create your own "custom" metrics to track anything you want.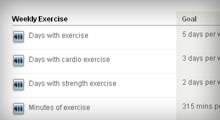 Goals
Goal setting is a key component of any successful program. With 411Fit you can set goals for just about anything from calories per day, to days with exercise and net calorie intake. You can also set goals for each of the metrics you track.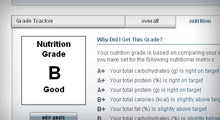 Grading
Once you have your goals set - either by 411Fit or through your own customization - your daily grade will keep you posted on how you are doing. Based on your individual goals and demographics, your grade is completely personalized to you.