True
coaching

is being there at the right time with the right advice

We know accountability and feedback are essential in a lasting client-coach relationship that produces positive results. That is why 411Fit has created the ability for you to monitor and track your client in real time.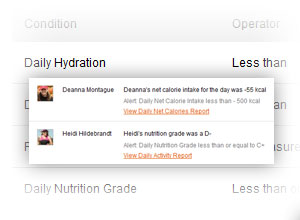 Stay Alerted
Coaches know the difference between a client breakthrough and bad habits being repeated is often a matter of awareness and timing. 411Fit makes it easy for you to be on top of your client's needs by setting alerts to prompt action.
411Fit is unmatched in the market with the ability to set alerts for your clients. Tell 411Fit's software to alert you when your client falls out of acceptable ranges for goals and metrics being tracked so that you can react immediately. 411Fit's email notifications allow you to respond directly to your client from the email you receive. Clients are impressed how responsive you are!
Never Miss A Beat...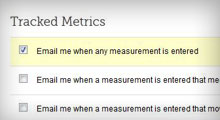 Real Time Feedback
411Fit believes in creating a continuous feedback loop between you and your client. Alerts are fundamental to communication as changes occur in your client's data. 411Fit allows you to set email notifications that allow you to respond to these critical changes.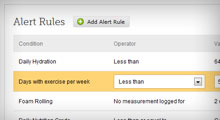 Alerts Plus
Alerts are more than an immediate call to action, they indicate a need to dig deeper into what is going on. 411Fit's robust reporting helps you "zero in" on potential concerns. You become their support and set yourself apart.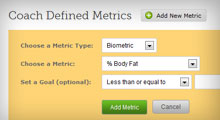 Track What Matters
With 411Fit you can customize metrics to meet your client's needs. Set coach defined metrics that are important to you and your client. Create a feedback loop that starts with tracking what is important, continues through setting alerts on the specific tracked metrics, and ends with feedback and reports.