One
letter

with a powerful message

The 411Fit letter grade (A through D) takes all of the goal and metric information you have set for your client and helps you get a comprehensive understanding of how well your client is meeting the objectives you have set. It compiles an enormous amount of data into an easy to understand performance indicator that allows you to better address your clients in a time effective way.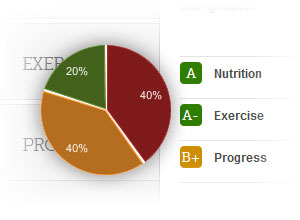 A grade based on what you define.
The grade that your client receives is based on the personalized metrics and goals that you have set for each of your clients. The closer your client is to the goals you have set for them, the better the grade. This is the backbone of what we call a robust client monitoring system; a continuous feedback loop that keeps your client accountable and allows you to provide your feedback.
A Comprehensive Indicator...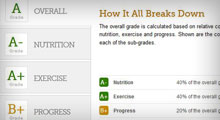 Hierarchical Design
The overall 411Fit grade is based on 3 components - nutrition, exercise and overall progress towards longer term goals. Drill into each grade component to view a grade for each one of the metrics you are tracking with your client.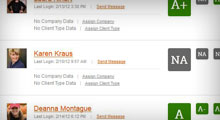 Instant Feedback
The 411Fit grade is updated in real-time with literally every piece of information your client logs into the system. Each time you log onto your coaching dashboard you will immediately see how your client is doing in real time.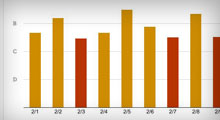 Strength vs Weakness
The 411Fit grade makes it easy for both you and your client to quickly identify strengths and weaknesses - from general nutrition vs exercise down to the specifics of macronutrients or types of exercise.