To get to where you want to
go

, you need to know where you've

been

.

Ever feel like you are stuck in a rut and can't get out? You keep trying the same things with the same results? With 411Fit's extensive tracking and reporting capabilities you can identify your own personal patterns and learn how to break out of the habits that prevent you from getting to where you want to be.
Reporting that actually makes sense.
At 411Fit we have a simple philosophy...if a report isn't useful then don't show it. From our eye-opening grading mechanism to our simple daily and weekly summaries and interactive What If? and trend analyses, our reporting is designed to help you see what you did yesterday, where you are today, and where you need to go tomorrow to reach your goals as fast as possible.
Better analysis leads to empowerment.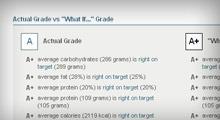 What If?
411Fit's What If? Nutritional Analysis allows you to hypothesize what you could have done differently to get closer to your personal goals. Try switching out food items, changing servings consumed or adding new foods to see how your grade would have changed.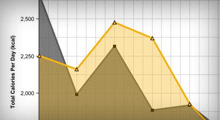 Trends
411Fit's Trend Analysis report lets you look for trends in your data. Plot multiple metrics on the same chart to see how your sleep affects your blood pressure or your sodium intake correlates to your weight measurements or any of a thousand different combinations.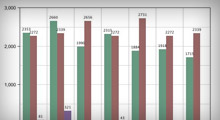 Net Calories
411Fit's Net Calorie Intake report allows you to not only look at your net calories over time but also identifies days where you may be missing nutrition data. Using your historical net calorie intake, it can then predict how long it may take to reach your target weight.