Wellness program design is a
dynamic

process.

Every wellness program has many moving parts...people, teams, goals, challenges, time, rewards, reporting and results. A well-designed program takes into account all of these factors and melds them into a format that works for the culture of the company. 411Fit provides a "step by step" design process that offers guidance, options and recommendations on how to combine these moving parts in a way the maximizes the return on investment for your company.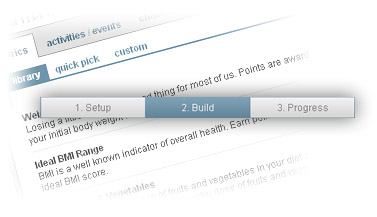 We make you the expert.
With 411Fit's easy to master process and logical "step by step" approach, you can design comprehensive, engaging programs for your employees in a matter of minutes. You pick the duration of your programs; you pick the challenges, activities and events that you want to include; and you pick the rewards that you want to offer. No-one knows your employees better than you...use that knowledge to build the best programs for your people.
Take control of your wellness programs.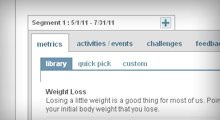 Libraries vs Custom
Pick from 411Fit's libraries of best practice options or create your own completely custom "objects". 411Fit's flexible design means that you are limited only by your imagination.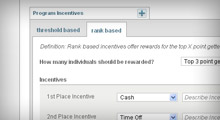 Incentives That Work
You pick how - and when - you want to incentivize your participants. 411Fit's points based tracking system makes it easy to reward employees for overall success individually or by team.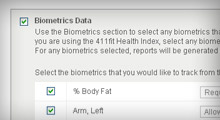 Measuring Success
Defining your criteria for success is essential when judging the effectiveness of a program. With 411Fit you can select how you want to measure success and view real-time reporting on your progress.